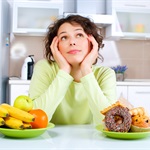 Those who don't follow a strict healthy diet plan are prone to obesity and much more lethal deficiency's. Its not until you see others affected by cancer, heart diseases and cataracts , you then realize the importance of the role of a diet in our lives.
Take for example the rise in the cases of obesity and diabetes which are results of poor diet following and lack of daily exercising . Most of the deathly diseases such as stroke, cancer and heart attacks are due to poor diets.
hence those who follow a balanced diet benefit so much more than they can hardly imagine. first of all they put all of the deathly diseases at bay and you'll not have weighty issue and last of all you'll be a happier person at the end of the day! But the best thing about eating a balanced diet is that you won't have to visit the scary hospitals ! You get to save on medical bills ! According to me the best four benefits a person can get from following a balanced diet go as follows:
1.
Stress free:
yay ! Good nutritional food keeps stress hormones at bay ! experience sweetheart ;)
2.
Stay in shape!
: Yes ! remember all those times when you sadly looked at your old favorite tight clothes? No more sulking on how you are putting on weight ! With the right balanced diet and simple healthy choices you can go from ouch to wow!
3.
Healthy heart :
The best weapon against heart diseases are the right amount of intake of fruits, veggies rich in vitamins and following a diet which is low in calories.
4.
Wellbeing wala feeling
: Its normal for a person to feel happy when he is feeling healthy and is in shape. So those who follow a balanced diet are people who are happy! What could be more better than staying happy?
Remember its easy to follow a crash diet but compromising on your health can be damn harmful! They hardly work and you end up with a lot of heart problems. Crash diets cut down on our bodies good and the baddy fats leading to fat deficiency so lets pledge not to go on a crash diet ever ! Thanks to Dabur for the
honey diet
you now don't have to follow these so called stupid crash diets ! Honey diet is a sweet alternative for all those craving to get rid of heebie-jeebies !
So have you tried the honey diet yet? If yes then its time to break into a happy jig :D