When I was 23 , I was engaged to my darling husband and to tell you the truth I was a bundle of nerves thinking of all the tasks and responsibilities I had to face after getting married. But I was blessed with the sweetest mother in law and she has by far the greatest impact on me.
Hailing from a village my mother in law is simple and kind hearted in nature but her strength , her power , her soft- heartedness, tenderness and acceptance of a daughter in law as her own daughter sets her apart from the world ! For me she was the best thing that happened to me after marriage . Yes , not the kids but it was my mother in law. Infact I never felt she was my husband's mother but always thought of her as my own.
She is a mother to 9 kids and does all of the housework on her own and believes in doing her work on her own. She inspired me to a stage where I felt I would be lost without her. Everybody used to make fun that 'yeh mayka bhool gayi..aati hi nahi' but the truth was she made sure there was never a moment where I missed my mom, at times reminding me to call my mom at home. Super sweet!
I have learnt a whole lot lessons from her and ever since I met her my life changed. She has been my best friend and a mom altogether ! And being the eldest daughter in law she has always looked upon me as her eldest most favorite daughter! I do wish every mother in law out there would be like her than India would be such a better place to live! No tears , no drama ! Sigh !
Her ability to solve every situation without being dramatic and her willpower to never let go of the good makes her unique. She might not be a successful name in the outer world from within she has mothered 9 lovely children and she is the sole reason for their epic transformation into growing up to be good human beings!
My best opportunities were recognized after my marriage. She always supported me professionally and emotionally! Her belief 'Look for those you can help, not those who can help you' also is something I will not forget for a long time ..
Early this month Tata motors announced great Argentine Footballer ace Lionel Messi to have become the brand ambassador of Tata and will be representing them globally. A great brand meets pure excellence! The young are sure to go wild and this is a stepping stone for Tata Motors. Association of a brand with a great international player is very appealing and is sure to garner the attention of millions of customers! Lionel Messi is one of my favorites when it comes to football and I think Tata Motors has chosen to associate with him for his sheer willpower and hard work has marked him a Hero!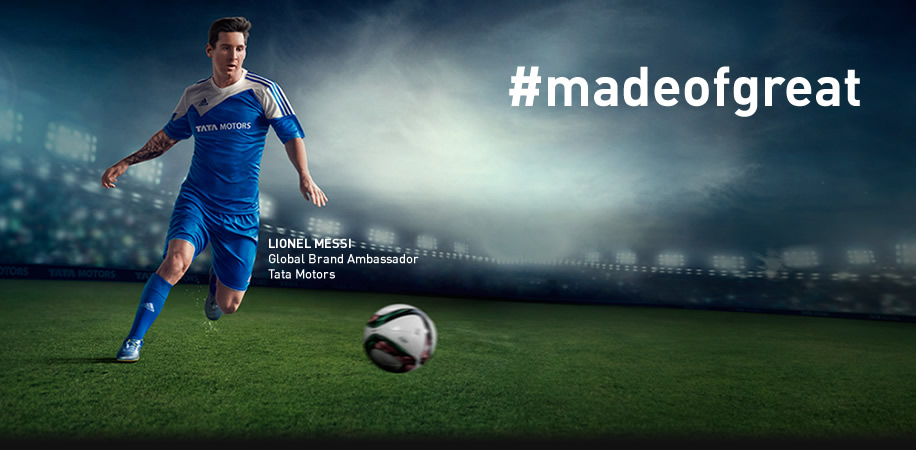 What do you think of their combining with 4 time winner player Messi ? Will it prove a success for them in connecting with the youth globally ? Comment about it and the best comment will be rewarded a gift voucher worth Rs 750/- from Amazon.in !
Look forward for your views.